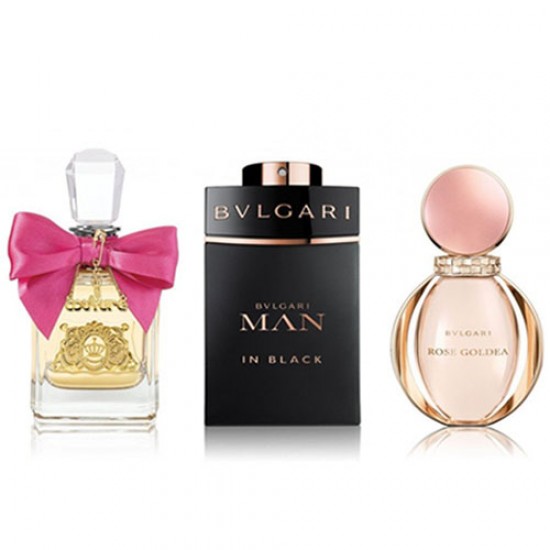 -43 %
Bvlgari Man - Bvlgari Rose - Juicy Couture
Description
- Bvlgari Man In Black Edp 100 Ml
Bvlgari celebrates 130 years of existence and launches new fragrance Bvlgari Man In Black, as a flanker of the original Bvlgari Man from 2010. The fragrance is announced as bold and charismatic, inspired by the myth of the birth of Vulcan, the god of the
- Bvlgari Rose Goldea Edp 90 Ml
Bvlgari Rose Goldea is a floral Feminine perfume for women. A beautiful sensual and sweet scent perfect for the spring weather. You will enjoy wearing it today and every day. You have to try!
- Juicy Couture Viva La Juicy Edp 100 Ml
The Viva la Juicy girl never turns down a glass of champagne or the chance to get into the tiniest bit of trouble. Viva la Juicy combines delicious wild berries, with creamy vanilla and bright jasmine. Unfortunately products deemed unsafe to travel by air
Information
Perfume
Brand
Exclusive Set
Perfume Name
• بولغاري مان - بولغاري روز - جوسي كوتور(Bvlgari Man - Bvlgari Rose - Juicy Couture)
Concentration
Eau de Parfum
Gender
Men - Women
size
100 - 90 - 100
Note: This item includes free shipping.
944.90 ريال
1,660.00 ريال
Ex Tax: 821.65 ريال